Welcome to my February update covering everything I've been working on this past month.
Game Vine ran their "Dexterity Week" series of videos in February reviewing the top 100 dexterity games. I am grateful they named Catacombs 3E their #1 dexterity game. David, from Game Vine, is looking forward to the new edition of Catacombs & Castles.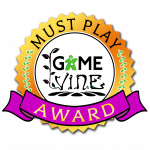 Speaking of Castles, the Catacombs & Castles 2E "big box" campaign launches on March 9th. There are two upgrade options for existing owners. The Catacombs 3E "big box" and the new Black Box expansion will be available as well.
The preview page for the Castles 2E campaign is here. Please have a look and leave feedback while we can still change things. The campaign page is still a work in progress and nothing (including prices) has been 100% finalized yet.
A draft of the Catacombs & Castles 2E manual will be available, but it hasn't been added to the campaign preview page yet.
On the pre-launch page for the Castles 2E campaign, you can sign up to be notified when the campaign launches.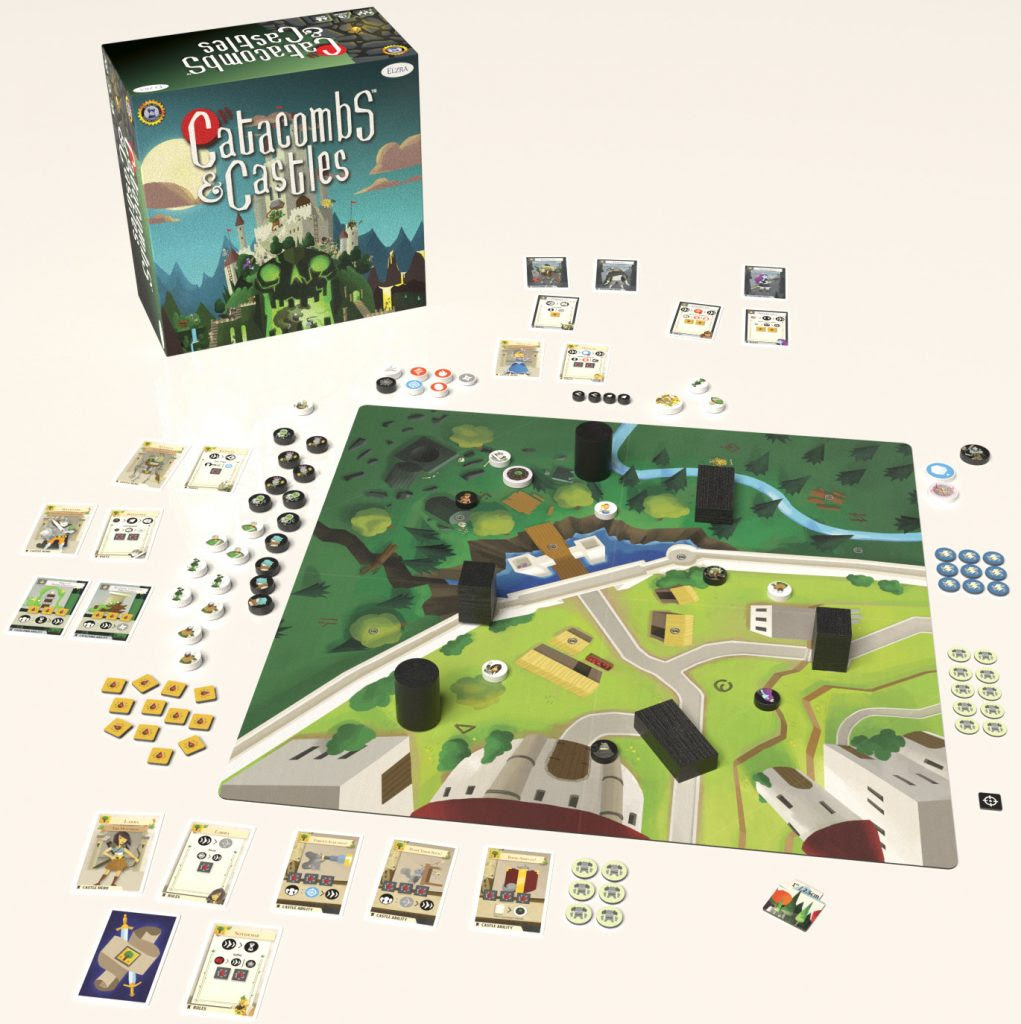 Catacombs & Castles 2E Overview
The major changes to Castles 2E can be summarized as follows:
1. A playmat replaces the game board.

2. Heroes all have their own unique native ability (just like in Keystones etc).

3. The net/web rules have been changed such that characters are not trapped.

4. Added the following ranged shots: giant fireball, ice boulder, hook, lightning.

5. Dedicated cards for Catacombs 3E compatibility.

6. Castles 2E hero portrait and rules cards are included for the King's Champion, Royal Archer, Wraith Knight, and Shaman increasing the roster from 8 to 12 heroes.

7. First edition hero rules cards and ability cards to be included (those that know how to play Castles 1E can still play that version of the game without having to retain any cards from the first edition printing).
From the draft Castles 2E Kickstarter campaign FAQ, here is a summary of the proposed rule changes in Castles 2E:
The rules for ability cards were harmonized between the game modes. In summary, ability cards are always charged up.

The placement of the obstacles during game setup was simplified.

The shield shot rules in Castles 2E were harmonized with those from Catacombs 3E.

The longbow shot rules in Castles 2E were harmonized with those from Catacombs Conquest.

The shuriken shot has an additional effect.

The rules for the net and web shots were changed – they no longer trap players and prevent them from taking an action.

The same hero cannot damage the same opposing character consecutively during a shot sequence.

The horn of heroes team action permits only one teammate to perform a shot sequence.

The orange ice shot icon was replaced with the ice boulder shot icon.

The orange target ice shot icon was replaced with a blue target ice shot icon.

The target ice shot and ice boulder shots enable assist transfers.

The fireball and giant fireball shots enable void transfers.

The term grapple shot now refers both to the original grapple shot and the claw shot.

Explanations of the the runic shift, move to rune, hook, and lightning shots were added to the Castles 2E core rules.
I'm also considering including a one versus one (1v1) variant.
HANDLING THE VAT IN THE CASTLES 2E CAMPAIGN
I'm not going to put the now ambiguous "friendly shipping" logos on the Castles 2E Kickstarter campaign page, though I will make it clear that we expect to ship the games from within the UK to backers in that country and from within Germany for backers in the EU.
I am continuing to research the forthcoming implementation of the EU wide VAT reforms (expected the 1st of July) including the wider roll-out of One Stop Shop (OSS). This article from the European Commission offers a good overview of the VAT in Europe as it stands today:
The Value Added Tax, or VAT, in the European Union is a general, broadly based consumption tax assessed on the value added to goods and services. It applies more or less to all goods and services that are bought and sold for use or consumption in the European Union. Thus, goods which are sold for export or services which are sold to customers abroad are normally not subject to VAT. Conversely imports are taxed to keep the system fair for EU producers so that they can compete on equal terms on the European market with suppliers situated outside the Union.
Value added tax is
a general tax that applies, in principle, to all commercial activities involving the production and distribution of goods and the provision of services. However, if the annual turnover of this person is less than a certain limit (the threshold), which differs according to the Member State, the person does not have to charge VAT on their sales.
a consumption tax because it is borne ultimately by the final consumer. It is not a charge on businesses.
charged as a percentage of price, which means that the actual tax burden is visible at each stage in the production and distribution chain.
collected fractionally, via a system of partial payments whereby taxable persons (i.e., VAT-registered businesses) deduct from the VAT they have collected the amount of tax they have paid to other taxable persons on purchases for their business activities. This mechanism ensures that the tax is neutral regardless of how many transactions are involved.
paid to the revenue authorities by the seller of the goods, who is the "taxable person", but it is actually paid by the buyer to the seller as part of the price. It is thus an indirect tax.
This article from December 2017 (also issued by the European Commission) is recommended reading as it explains the decisions behind the VAT reforms including regulating online marketplaces (Amazon, eBay), the One Stop Shop, and the abolishment of the 22 euro de minimis threshold for goods sold into the EU.
Regarding the Castles 2E campaign, I state clearly with each pledge level that the displayed price (in Canadian Dollars) should be considered exclusive of VAT for backers in the UK and EU. This should avoid any unpleasant surprises (Exhibit A: Massive Darkness 2).
Furthermore, unlike our previous Kickstarter campaigns, I'm integrating a FAQ section directly into the main Castles 2E campaign page. The Kickstarter FAQ functionality is, frankly speaking, lacking: no formatting, no live links, entries have to be re-ordered using an awkward AJAX driven drag and drop interface, and you can't edit the FAQ page prior to launch.
Shipping Capacity Challenges Persist
The annual Lunar New Year holiday is over and our factory representatives in China have already been in touch with us to say they are back to work.
Despite this, severe capacity challenges persist in getting goods out of China.
The following was reported to me from our freight forwarder:
Lunar New Year has resulted in no significant slowdowns in demand out of Asia.
There could be missed sailings due to vessel slidings due to the continued operational delays especially in the Los Angeles/Long Beach area. All are keeping a close eye on how the situation in Asia is developing with truck availability and factory closures around the holiday period. Currently trucking is the primary bottleneck with availability reported as low as 10-20% of normal as a result of the holiday. Only slight improvements are expected heading into March.
Capacity availability & schedule reliability has seen little change from our previous update.
In Los Angeles/Long Beach, there are significant wait times as vessels queue to enter the harbor as a result of the continued strong demand and labor ganging restrictions on vessels (due to labor shortage). Similar pressures, albeit not nearly as significant, are seen in Vancouver, Savannah and other USEC ports. The wait times vessels are facing at port destinations continue to impact the availability of vessel capacity in Asia as vessels are unable to return on schedule. This is resulting in an increased amount of slide sailings and delays, but it is important to note that it's not a result of a change in outlook around demand strength. An increased number of COVID cases amongst seafarers is also impacting some vessel ops and thus availability of vessel capacity.
Equipment shortages remain an industry-wide challenge and one of the limiting factors for shipments out of Asia.
While the initial shortage was for 40′ container types, the duration of demand has resulted in shortages of alternate sizes as well being used for substitution. 20's and 45's are limited in specific areas and 40′ NOR (Non-Operating Reefer) also have restricted availability. Repositioning will remain a focus moving forward tied to plans for additional in-fleeting of equipment in March and April. These additional boxes deployed into the equipment fleet will not solve the equipment issues being faced, but it will help reduce some of the pressure.
Based on the abovementioned trends, we expect the current challenges to continue throughout Q1. The focus remains on ensuring coverage for the demand out of Asia while balancing schedule reliability issues and mitigating port operational delays as best as possible.
The following update comes from Apex Logistics in their February Week 8, 2021 update:
Market Update for Week 8
OCEAN FREIGHT
No rate change thru the end of February
MSC and Mersk imposing new fuel surcharge effective March 1st
Hamburg SUD extended rate to March 14th
Demand has softened compared to pre-CNY (Chinese New Year) holiday (most factories still not working)
Space is opening with a few carriers in March, new bookings being made
Delays: no improvement, remains around 10-14 days in general
Equipment shortages improving in China origins which is good sign!
Around 70% of truckers in China have returned, and are available
ORD – BNSF Ramp CHI/Joliet – Empty returns from Ellwood going to diff. locations
Port of LA/LB (Los Angeles/Long Beach, a key transshipment port for containers reaching the US west coast — Aron) is extremely congested, Port Authority considering mandatory diversion to other ports, where containers would then be transported back to LA/LB port area.
AIR FREIGHT
Stable market in South China and Central China
Market prices are slightly higher than last week
Expecting a rise in cargo volume next week, with more flights resuming from CNY so it will be the same rate level for next week
LAX Trucking rates remain high due to market demands
Cavern of Soloth
The next printing of the Cavern expansion is finished production and waiting to be shipped from the factory (no change from last month's report).
Catacombs 3E
The next printing of Catacombs 3E (R3P2) (the retail version) will be completed after the Lunar New Year holiday. The factory is in the process of resuming operations.
Catacombs Monster Pit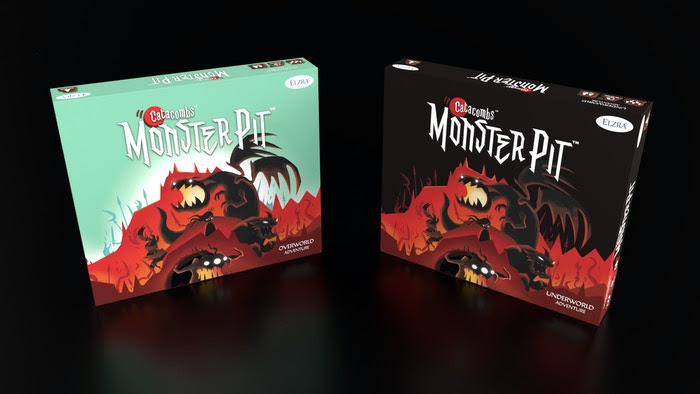 Taking feedback from the backers, both Monster Pit Adventures will be packed in separate boxes.
The Monster Pit Overworld Adventure supports solo, fully co-op, and 1-vs-many play with a player controlling one of the five Catacombs Lords (like in Catacombs 3E).
We decided to add additional buildings to the game including the Stables, Wyvern Roost and Wishing Well. We continue to thoroughly play test this new content.
The Monster Pit Underworld Adventure will be a new Catacombs 3E compatible core box. In February, I was able to work further on the text of the manual. I also posted artwork of some new characters and weapons on Instagram.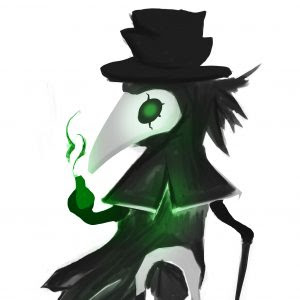 Catacombs 3E Black Box Expansion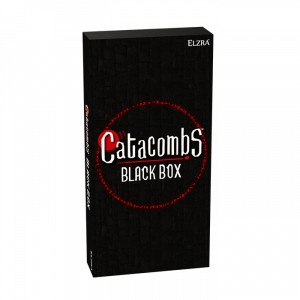 The alternate monster cards that were originally going to be included in Monster Pit have been moved to the Black Box expansion for Catacombs 3E along with a new playmat.
As a result of the shipping capacity challenges described above and the fact that the Castles 2E Kickstarter campaign will launch next week, I decided to make the Black Box expansion available via that campaign.
I'm sure that backers in the UK and Europe will want to consolidate everything into as few a shipments as possible.
For those who haven't seen them yet, here are the Dropbox links for the Black Box manual and cards:
Click here to watch a quick unboxing video of the Black Box production sample.
Catacombs Conquest Event Horizon Expansion
I am continuing to work on a new expansion for Catacombs Conquest called Event Horizon. There is an unlisted Tabletop Simulator Mod where you can try this expansion out.
If you are able to, please give the Conquest + Event Horizon TTS mod a try and let met know your feedback – email me at aron@elzra.com. I would really appreciate this.
I'm primarily interested in the game itself, not the implementation of the mod as support for flicking games in TTS is still a bit rough.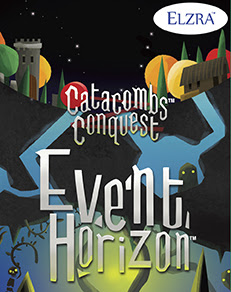 If you wish to look at the work in progress manual and cards, here are the Dropbox links:
Phantom Division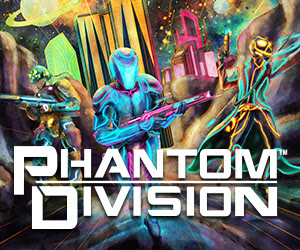 Phantom Division, designed by Mark Thomas and Pete Ruth, is expected to be released on Kickstarter or perhaps Gamefound this year.
In February, I contacted Gamefound by email again. It appears they will run several live, test campaigns first. Then they will open their platform up to all creators this summer. Given the opportunity, I would like to use Gamefound for the Phantom Division campaign.
This month we made progress on the wall system for Phantom Division.
This is one of the trickiest aspects of the game as the walls need to integrate properly with the neoprene playmats and must be efficient to set up between missions.
We originally considered using plastic stands in conjunction with die-cut cardboard (similar to the Elzra Wall System included with our Catacombs line of games). However, we are now exploring using a fully plastic wall system.
The renders below give you some idea how these walls could look with the "warehouse" map. Note that these renders show "work in progress" and not a final design. Also, the parts for the door frames are not included.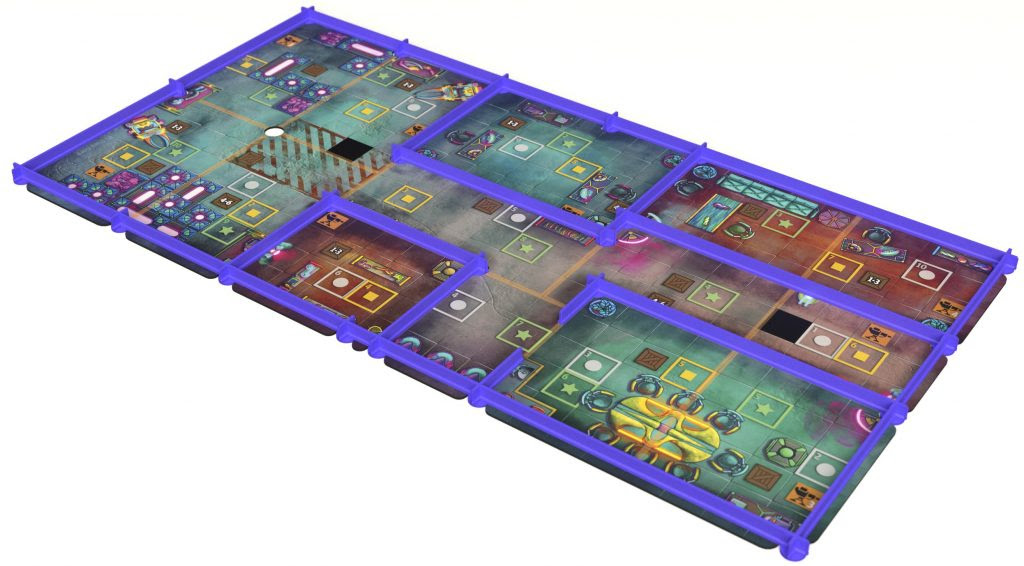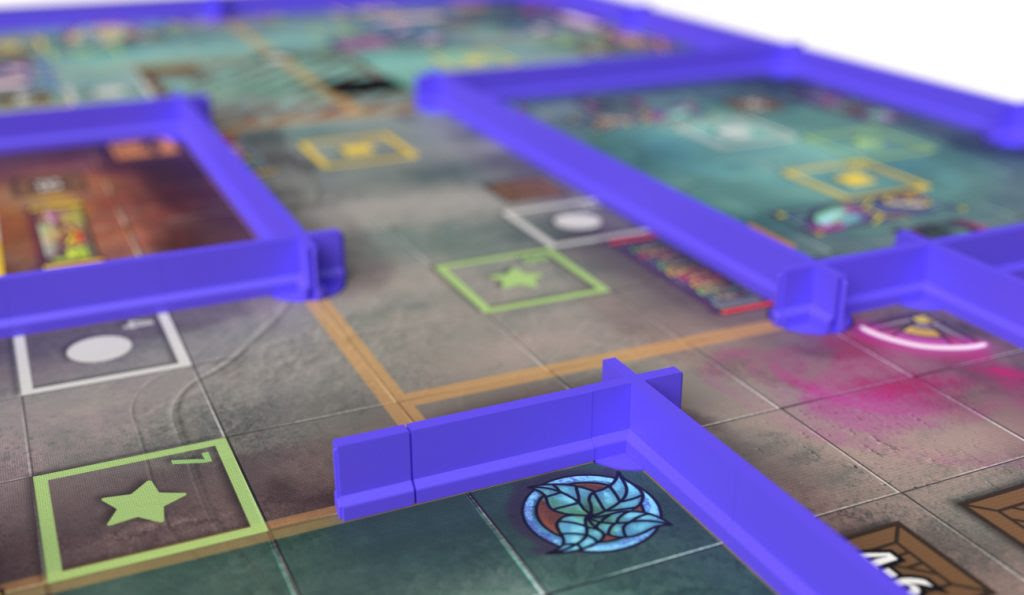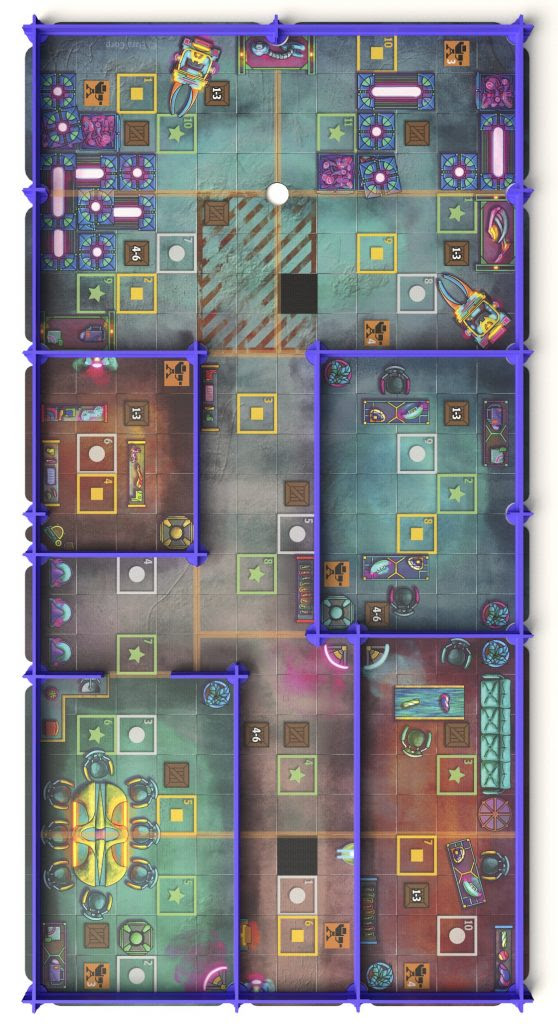 Games I Have Been Playing
In February, I tried Tortuga 2199 for the first time on Tabletop Simulator (TTS). I played Dune Imperium a couple of times and managed one play of Concordia, also on TTS.
Get In Touch
For any comments, questions, feedback, you can email me at aron@elzra.com, but please give me a chance to respond due to the high volume of messages I receive.
Instagram
Finally, just FYI, I periodically post photos and artwork of what I'm working on via Instagram.
Thanks again for all of your support,
Aron